Don't you love my title?
Sorry…
Anyway, quick update today.
We finally got a stool that we could test for the presence of blood. It was positive.
They also had all the other tests come back today from the stool sample we did earlier last week. Everything came back GREAT… except for something that I have no idea what it is, but means that carbohydrates aren't being absorbed as well as they should. But she tested negative for things like celiac disease and a bunch of other NOT good things… so I'm glad for that!
Waiting to talk to GI today. But in rounds I was told the tentative plan is to do an upper and lower GI scope to do some tests and see how things are going. Depending on the schedule, this might be done inpatient early next week (which would delay our expected go home day… BOO) or we would have to come back to do it.
I don't like either. But to be honest, I think I'd prefer inpatient purely so a.) we aren't going home with bloody poop and b.) we can get it done quicker (i.e. it's not scheduled out for like two months from now, which is common in out-patient procedures…)
The ONLY way I'd prefer to do it later is if they could coincide it with her heart cath in March. That would mean they only had to put her to sleep one time vs twice.
*big sigh*
Other than poop issues, Annabelle is doing GREAT! Less vomit (only once yesterday) and back on our home oxygen routine with only a few exceptions.
I got "out" of the hospital last night and went and saw my other kiddos and had dinner with them! I hadn't seen them in a WEEK! MAN I miss those girls!!!!! *sigh* Really praying we can go home SOON… because I miss my WHOLE FAMILY! It made me sad to sit around a table and not have Annabelle there, though 🙁
BIG THANKS to my sister Kari Jo (and baby Pamela via belly…) for visiting with Annabelle last night while I went to see my girls! It helped SO much knowing someone was here with her!!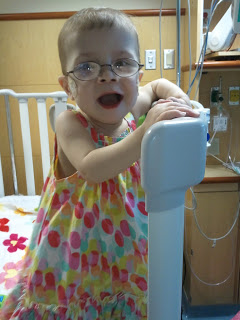 Awful lighting… but Happy Annabelle this morning!!! And in a pretty DRESS!! (although I think it highlights her poor skinny arms though.. )