I'm doing a rare Saturday post in honor of my friend, Christina Berry, so I can tell you about her AWESOME new book, "The Familiar Stranger."
Short blurb about Christina–my fellow super spy woman!:
As a single mom and foster parent, Christina Berry carves time out of her busy schedule to write about the heart and soul of life. She lives with her family in rural Oregon. The Familiar Stranger is her debut novel. Get to know her better at www.christinaberry.net
And now a short blurb about her rockin' awesome new book:
The Familiar Stranger—formerly known as Undiscovered—is about a couple going through a really rough patch in their marriage. When an accident incapacitates the husband, their relationship must be redefined. Which would be a lot easier to do if BIG secrets from his past didn't raise their ugly heads. Despite the upheaval, the choices they make involving forgiveness and trust might allow a new beginning. Or … they might not. You can see the back cover copy and what other authors have said about The Familiar Stranger by going to http://www.christinaberry.net/books.aspx
And finally… my killer interview with her. *grin*
Christina… first, this is an important question. You see, I like twitter. And when I started on there I felt SURE I would find out all sorts of wonderful information about people, like if they preferred skim milk to 2%… Ate dry cereal or preferred scrambled eggs… if they used Crest or Colgate. But alas, no one tweets about these things! So… in interest of full-disclosure…. what type of toothpaste do you use? Inquiring minds want to know!
Colgate Total Whitening Paste. Not gel. I strongly dislike gel. I dislike it so much, I'm sure all my characters use Colgate paste as well. If I were to follow Donald Maass' advice and have my character do something he or she would never do, it would be for him or her to use Crest gel toothpaste.
Phew. Glad we have that out in the open, although I'm a gel girl myself. So… tell us… how did you come up with this idea for a book?
In the summer of 2006, two stories appeared in the newspaper. One was a huge, national story; the other a smaller, local-interest item. I wondered what it might look like if those two stories conceived a child. Boom! I had the entire plot for The Familiar Stranger. It will be interesting to see if readers can figure out which stories inspired the book.
Ohhhh, anyone want to take a guess? Now, next question. What's the BEST piece of advice you've ever gotten about writing?
(If you've been writing for years and have yet to get published, this is especially for you!) To start a new novel.
I'm a stubborn girl—just ask my parents. My mother and I reworked and reworked a co-authored story for eight years, each time putting our newly acquired writing knowledge/skills to use. We were determined that it wouldn't end up in a box in the closet or shoved under the bed. I still love that manuscript, and it's actually very close to selling as I write this, but it wasn't until I took the advise of others far sager and experienced with writing to start a new novel that I finally made my first sale.
That's good… now what about your worst?
At a Christian conference, I met with a New York agent. The conference doesn't require the faculty to sign any kind of statement of faith, though it is blatantly Christian in tone. The man actually told me replacing "Jesus" with "God" would make an easier sale and not offend as many people.
With all due respect, excuse me? The very Cross itself is offensive. (See Galatians 5:11) I'm going to use the name of Jesus because in His name dwells power and glory and honor. And really, because when you love Someone, even His name is beloved.
I love your "excuse me?" note. I so picture you with your hands on your hips, givin' a little attitude. LOVE IT!
Next… another twitter question… which I'm truely interested in because I just got a pedicure the other week and I'm not crazy about the color I picked. Favorite toe-nail polish color??
Silvery blue. The only color that doesn't make me look even whiter than I am.
So… we are lovin your toes… your teeth…. and your book. Where can we find this awesome book for purchase?
Here are two links:
You can also have any bookstore order copies for you if they don't have any in stock.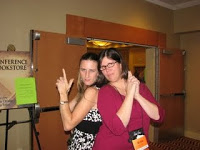 Last question. This is a THINK fast one. Okay, you're plotting a book about Christina and Krista, world-renowned super spy women. Give me the elevator pitch. GO!
Moms by day, but what by night? Slipping soundlessly through the darks and lights, secretly doing the laundry of America under the cover of midnight, winning the undying gratitude of every overwhelmed parent everywhere … Krista and Christina–the Laundry Ladies!! [Insert picture of us in tights and with big "L"s on our chests. ;)]
***A few notes***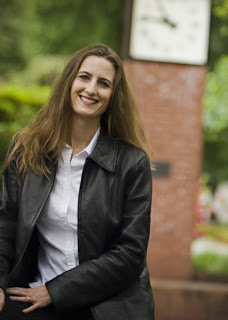 As part of her blog tour, Christina will be picking TEN people that comment during the month of September on any of the blogs featuring her book to get a copy of The Familiar Stranger, with the process repeated in October. So comment for your chance to win!
Also, she has a wonderful newsletter you can subscribe to as well on her website as well… (with a chance to win other stuff too! See her site for details!)
AND! Don't forget to visit the next stop on the tour…