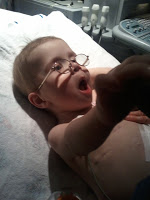 She's trying to help w/ her echo!
Annabelle has been taking some BIG steps lately!
I realize this makes you think she's walking. She's not. Well, not really anyway.
But what she IS doing that are MAJOR, MAJOR (even if they don't seem so major to you…) are:
Holding something in both hands. We've been working on this since, wow. I think since our original hospital stay! Annabelle will hold toys just fine, and in each hand, but not at the same time. You give her one toy, and she drops the other one immediately. But on Thursday, she held something in each hand for more than a half of a second. (Before, she would only do so if she was mouthing one of the toys.) Then yesterday, she repeated it, multiple times, at home, with her initiating it (i.e. picking it up herself!!) Mommy screamed!
Along the lines of the above, she's always been doing good at banging toys against things, but we needed her to bang toys TOGETHER. And those two things she held? Yup, my baby banged them! WHOOP!
Again, along the lines of above, she's clapping her hands! She LOVES patty-cake but only when her hands are clapped together by someone. She still won't do it to copy, but she's been clapping her hands when something cool is on TV, or when she gets excited. This seems so elementary, but we've been working on it SO hard, and it's always made me so sad that she can't do something so simple. SO YEAH for this big step!
Annabelle now WAVES! She waved bye-bye to her PT/OT on Thursday, and whenever you wave at her,she mimics it! Now, I don't think she understands that it means bye-bye. But she can copy it, and this is really big for us! Copying will help in SO SO many things!
My baby is CRUISING!!!! She was standing up to the couch at my sisters house on one end, and cruised all the way over to the other end! AHHHHHHHHH!!!! Next step, letting go. After that, WALKING baby!
So yeah. Pulling to stand and liking glasses last week. And a whole bunch of fun firsts this week.
Momma is beside herself pleased!
Now, we just have to work on that dad-gum eating!
Two prayer requests this morning, actually make that three:
Unspoken one for specifically this morning. I can't go into detail, but please please be praying for this! It affects someone super near to my heart. Please pray for peace, discernment, and a really good outcome!
Annabelle was acting kind of weird last night. When I put her to bed, she was fine, and I put her on her normal SUPER low oxygen setting (1/16th of a liter) But as soon as she fell asleep, she dipped her sats below what the doctor said he wanted her at with oxygen. I turned her up a wee bit, but it didn't help. I ended up having to turn it up to a 1/2 of a liter to get her SATS above 92 (they were resting in the mid to upper 80's) I can't figure out if it wasn't picking up right, or if she was just super sleepy. I left her there for an hour, then weaned the oxygen back off and her SATs stayed up. I'm not too concerned, it's just…. different. And this Momma doesn't care for different!
There is a little boy at Vandy having a SUPER hard time. His name is Drake. I've been following his story ever since a commenter on here mentioned him. Please be praying for this little man! You can get his updates at http://www.facebook.com/pages/Drake-Barlow/172989202782757 .
And a few cute pictures (man, I need to get a decent camera so all my Annabelle pictures aren't so blurry! This is on my someday-when-I-sell-a-ton-ton-ton-of-books list! HA HA HA!)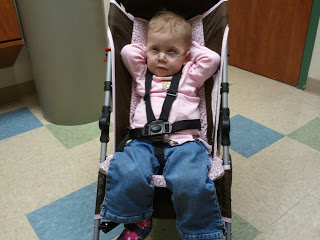 Relaxin' at clinic….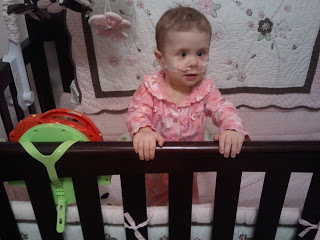 Look! I stand up in my crib in the morning now!!!!!! This is how mommy finds me most mornings and after nap:-)