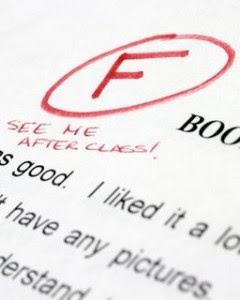 On Monday we talked about how to handle "waiting," a necessary evil in writing.
Another necessary "piece of crap" that comes with writing, whether we like it or not, is failure.
Yesterday, the finalists in the Golden Heart contest were announced. A ton of people got some GREAT news. However, close to a thousand people saw only this as their phone sat silent:
YOU FAILED!
That's right. Some may balk at this, saying you didn't fail. You just didn't win. That you only fail if you don't try.
But I gotta tell you folks. As one of almost a thousand people who didn't get a phone call, in the moment, no platitudes make it better. I failed to win, plain and simple.
Contests aren't the only place where we will fail as writers. Agent rejection letters come back, and it feels like our 5th grade teacher handing us a paper with a big fat F on it. Editors will shake their heads at our proposal, saying that it just doesn't fit in their lineup right now. BEEP BEEP– look out! Here comes FAILURE! And when you are published, you'll still have editors shaking their head, but even more, you'll have readers who post nasty reviews about how awful your book is. They might as well just write, "Na na na na na na! You are a failure!!"
Don't like the word failure? Fine, replace it with disappointment, rejection, a road block, a door slammed in your face, or whatever other label you want. It still hurts. It still stinks.
So, as a fellow failure of a writer (MUHAHAHA! I know I won't ALWAYS be a failure… well, I HOPE not anyway!) I want to share with you my view on the stages of coping with failure. I'll use a contest failure as an example, since it's most fresh in my mind. Replace the descriptions with your own situation.
Stage One: Denial. This is where I keep an eye on the RWA website, hoping maybe my name will pop up on the list even though I didn't get a call. They could make a mistake and forget to call me right?
Stage Two: Blame Shifting. They MUST have lost the entry. There is simply NO other explanation!
Stage Three: Fear. What if… what if they didn't forget to call… didn't lose the entry? What if… *gasp* I just didn't final???
Stage Four: Anger. Those stupid no-good rotten judges! They hate me. They figured out who it was, and they must have lowered my scores because they have some vendetta against me. I probably got all the judges who like to give low scores just for fun… like those teachers in school who laugh with glee as they get out their red pen and write "F!" at the top of your paper.
Stage Five: Superiority. Those judges… seriously? They can't judge worth a hoot. If they are published, I bet their books aren't even selling! Poor people… they don't even know a good book when they see it!
Stage Six: Guilt. If the judges can't tell a good book from a bad one, am I saying the people who final.ed didn't deserve it? That would be mean of me. And those judges are people too… they worked hard to get where they are, and spent a lot of time judging out of the kindness of their heart.
Stage Seven: Saddness. It settles in. I didn't final. It isn't the judges fault. It's mine. My entry just plain wasn't good enough.
Stage Eight: Grief. Mourning the loss of a contest is normal and needed. It stinks to lose, plain and simple. It's time to feel a wee bit sorry for myself.
Stage Nine: Acceptance. So, I didn't final. Nothing I can do about that now. I can't roll back time and redo my entry. I can't change a judges mind. Time to move on.
Stage Ten: Victory. The failed contest entry doesn't have to define me. I am a writer, and a good one at that. I might not have won, but I can work on my writing and get better. I can wait and get the scores, and work on the areas they pointed out. There is always next year. There is always the next book.
The biggest thing I want everyone to get from my blog today is this:
DO NOT LET FAILURE DEFINE YOU AS A WRITER!
There are ups and downs in writing, just like there is in life, and in every other career for that matter. Get through stage one – nine quickly (don't feel like you have to skip stages to be a good person… just don't wallow in any one stage for too long!) Then move on. Do better. It's like the wonderful saying I always heard in church growing up… we may lose a battle or two, but with God, we'll win the war!
Discussion: Any stages I forgot? How do you cope with failure? Please, no "so sorry you didn't lose.. those stupid judges!" comments. I'm past stage 4 and 5 and don't want to regress! ha!