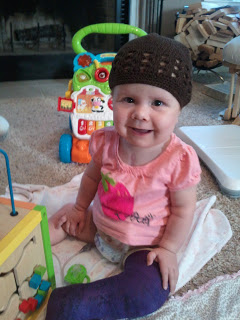 Confession time:
Annabelle watches WAY too much TV.
In my defense, she is obviously not a typical 15 month old who is toddling around and playing with toys at will. And, she spent 10 months in the hospital, where much of the time she did what?? Yep, watched TV.
And she likes it. It's become part of our schedule. After we "eat" breakfast, I put her in the middle of the living room and hook up her feeds, which takes almost an hour. She plays with toys during this time, but having the TV on helps keep her "happy" while we are shoving formula into her stomach.
And usually she's so content, that when her feeding is done, we continue with the TV on. It's the only way Mommy is able to get cleaning done in the morning!
Afternoon is naptime thus the TV stays off, but when the other girls get home from school at 4, they usually flip the TV directly on again.
I haven't counted the exact hours she watches.
But it is much more than the zero to 1 hour most "experts" recommend for children.
It's been worse now that she's broken her leg. We used to have an hour of "jumperoo" time every day, and every Thursday was PT in the morning, but now we don't have those two things until she gets the cast off.
that said, my other kids at this age were home with their dad. And while my husband is a fantastic daddy, I can guarentee you they watched as much if not more TV than Annabelle.
And my other kids all do really well in school, have great attention spans, and are decently well-adjusted kids. It didn't hurt them, so I'm thinking Annabelle won't be worse for wear either.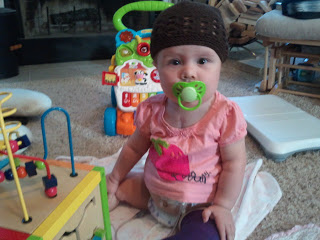 And it isn't like she sits there like a zombie. She is usually playing with her toys while she watches.
Am I trying to justify a bad habit?
You bet.
Do I use the TV as a babysitter (the phrase used by many )?
You bet. I have very few people (read no-one) who I can actually have watch Annabelle for me because of her meds and special needs, meaning Mommy is pretty much with her 100% of the day except when she is sleeping, and even then there is the magic of a baby monitor! So yes, the Seseme Street and Sid the Science Kid become my make-shift babysitter so I can get SOMETHING done.
*Discussion* – Am I the only one who pretends she's never heard the admonitions against TV time for babies???
OH! And quick update. Annabelle sat up by herself AGAIN this morning! (while she was watching TV, btw…) I was in the kitchen cleaning and looked out over the sink into the living room and saw her sitting up! This Momma was SO SO proud. I was afraid it was a "one time" wonder kind of thing, and it'd be weeks before she tried it again. So I'm hoping that she's getting used to it and it will be come a regular thing.
Baby gates are going to be needed VERY soon, me thinks!