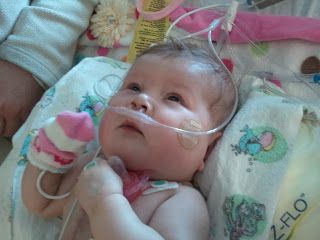 Went to work earlier than normal today to try and get caught up a little.
Got a call around 11:30 saying that Annabelle had taken a turn for the worse, wasn't breathing well, and they were headed back down to the ICU.
Her lactates were elevated (6.1… should be around 1) and she was severely desatting even on high oxygen.
They've given her fluid to bring her lactates down… but her lungs are wet which contributes to her desatting… so they also want to get fluid OFF of her. Go figure.
She is now in the ICU, on vapotherm again, and we've had to go up pretty high on our flow and are on a very high O2 percentage, and she's still hugging her low 70's in SATs (we want her to be 75 – 85.)
We have started her back on her Milrinone… an IV heart medicine that should help her heart function why she waits for a heart. Good side: This puts us on the highest priority heart transplant list. Bad side: This keeps us in the ICU until she is able to get her heart. There is a possibility we could go upstairs on it… but to be honest, at this point, it makes me nervous, and I really don't think they'll want to put her back upstairs with her history. I could be wrong though…
Which brings me to what I was GOING to blog about today:
WE ARE OFFICIALLY ON THE TRANSPLANT LIST!
Effective yesterday afternoon, we were put on the list, with a status of 1b. We are now 1a, the highest level. I'm excited at the same time as I'm nervous as all get out.
Excited because our "new" journey has begun… and we can't get through the journey if you never start it. It's like when you get in the car, knowing that you are starting on a long trip. You know the hours will be long, kids will be cranky, sleep will be questionable, and you will eat WAY too much chocolate and junk food… but there is a destination, and our prayer is that the destination is a new heart for Annabelle and our being able to finally bring her HOME.
On the flip side, it's scary because we have no idea how long the journey will be, the ending we want is not guarenteed, and as i told the nurses… instead of counting DOWN the time … we are counting UP the time.
So, today is day 2. I think I'll add a counter to the side of my blog:-) I wonder if they have a "count up" one!
But for today, please pray that Annabelle's sats stabilize and that she can calm down. She's still pretty grumpy and just not feeling well. Although while I've been typing this… she feel asleep, so is finally calm!