Firsts this week: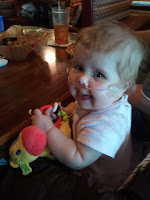 First trip to Applebees (Thanks, Susie, for the giftcard!)
First trip to Krogers (and Mommy's first attempt at using more than one coupon… saved $20, woohoo!)
First time in her new BIG girl carseat! She did FABULOUS and LOVED it! However, since we ditched the infant carseat, we had to take out the shopping cart cover for Kroger. Wasn't sure how she would do, but she did AMAZING!
Trial off oxygen! Annabelle's fault… she decided to take it off her nose and try to chew on it. We gave her an hour off oxygen though, and she did FABULOUS.
Tuesday was slightly annoying. Med company delivered our medications and missed one. Since I ordered over the phone, fault was he said/she said, so I didn't go there, although I KNOW I ordered it! And unfortunately, it is a drug that I can only get in Nashville since it is compounded. To top it off, I had ordered a day or two later than I should have, so the delivery was down to the wire. I would need the new med bottle for that nights meds, and it was a VERY important one we couldn't skip.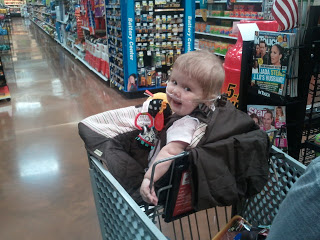 So, on a day I thought I blissfully could stay close to home, I drove all the way to Nashville. I was not pleased. Lesson Learned: Order Meds early!
We haven't gotten out delivery of new formula yet. Will call to check status tomorrow. But, we did increase her Prevecid from 1/2 of a tablet to 1 tablet. She threw up one time yesterday, but not at all today. I'm hoping that the medicine is making a difference and that she STAYS not throwing up!
She made me a little nervous tonight, though. She was fussier than normal, and her heart rate was elevated higher than normal. However, she didn't get a great nap today (she fell asleep on the way home from PT and wouldn't go back to sleep after that) so I think she was just super sleepy, because she is still satting fine and she fell asleep the moment I put her down. Keeping an extra close eye on her though!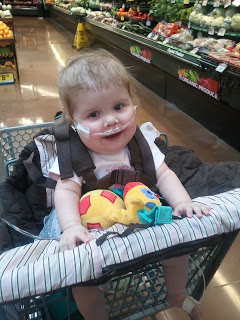 Other Daughter Issues
I don't talk about my other daughters a lot here. Mostly because at least one of them is old enough to visit my blog when she wants, HA!
But now that we settling back into home life and trying to get a routine, it's…. difficult sometimes, to say the least! Last year, they had routines with their Grandma. The year before that, I was pregnant the whole year (thus a tired bear of a Momma) and all years prior to that, I was still a working Momma, so they had routines with their Daddy.
So Mommy is implementing new routines. We have a bedtime we stick to. And chores they are made to do nightly. And homework that is made to be done. If I hear the words, "That's not fair!" one more time, I might pull my hair out and scream. Because that is ALL I have heard this past month!
It is a learning curve for us all. We'll get there. And I remind myself too, this all is normal. They are struggles every parent faces. And I have good girls… most days:-) One daughter complained the other day of a teacher saying the words "shut-up." She says, "Momma, some kids have parents who teach them that it is a bad word. <<>> shouldn't be saying that! It will make those kids feel uncomfortable!"
Now, said teacher probably shouldn't have said that, I agree. But if only things like saying shut-up stayed one of the worst things that could be said/done, I would be THRILLED.
Weaning Oxygen: We've going slow. She's doing well most times. She's on 1/8 at night and nap then 1/16 during the day. She keeps dipping sometimes, which concerns me, but she comes right back up in seconds. I can't figure out, though, if she is really dipping, or of the pulse-ox just doesn't pick up well.
Feeding: Annabelle still has no joy over the thought of food in her mouth. This is a big hurdle, and one I have a hard time with. My nature is to "make her" because I'm mom and I'm the boss, dad gum it. But, I know this is different. I need to be patient and help her to learn to LIKE eating. It just isn't an easy task!
No Puking: While she's doing better, this is still a major concern of mine.
Job: Scott still needs a job. He is SO much better at the waiting thing than I. While I am frantic and hyperventilating, he is calm. While this is VERY irritating to me (because as most women will understand, the calm comes off as not-caring, to which most men will say, huh?) I am woman enough to admit that he's probably the one handling it in a more Godly way. He says to me the other day, "Do you want me flipping out and panicking like you? Would that be better?" Is it horrible that I said yes??? Yes, it probably is. At least I was honest!
Writing: That God's will be done with it. That I find time to work on it. And that I write the RIGHT story!