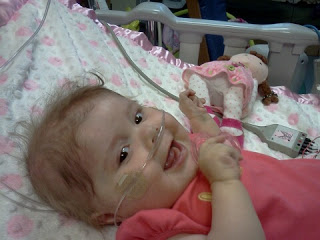 Easter is almost here… and it's yet another holiday Annabelle will spend in the hospital. There had originally been talk last week about us being home by Easter, but I had doubted it even then.
But we aim to make it a GOOD Easter!
Some of you may remember that at Christmas, we were praying very hard to come home. The doctors said we "might" be able to make it, and the last week before Christmas, all signs pointed toward it. We were all praying, preparing, and were SO SO excited. They were allowing her to come home on CHRISTMAS eve and spend as much time at home as she could stand (they forewarned us that we might only be home a few days or a week… but we were okay with that!)
Christmas Eve came. We were ready with all the home equipment, perscriptions filled and everything. I woke up early that morning though, and took a look at Annabelle's monitor. Her heart rate was high, a typical Annabelle sign that she had a fever. We did not go home for Christmas… in fact four months later have still not been home.
I realized later that I'd changed what Christmas was about. Christmas 2010 was Mission: Get Annabelle Home. Not Mission: Celebrate Jesus' Birth. I was deeply humbled.
So this Easter, we are still here in the hospital, post transplant, and waiting yet again to go home I'm determined to make this NOT about Annabelle, but about the amazing gift that God gave us.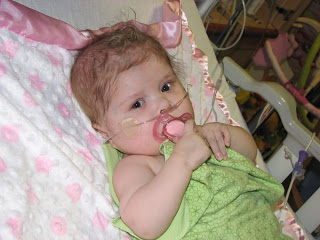 It isn't lost on me that the life-saving gift a family gave in their time of grief is not unlike the life-saving gift God gave. Instead of Easter revolving around getting Annabelle home, I want Annabelle's story to point to Jesus, to remind us all that Easter isn't about eggs, bunnies and chocolate, but about sacrifice and love and the new life we can receive if we accept Jesus' gift.
I won't go into a long salvation message… because I am NOT a preacher and besides, most of you reading this already know Jesus, but I pray that if you think about Annabelle this weekend, that she reminds you of the life that was given to give YOU a new heart. And if you don't know Jesus… MAN you are missing out. Know that He loves you no matter how battered and broken your heart is.
Because God is HOPE, and God is LOVE.