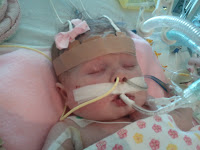 I woke up this morning and came into Annabelle's room to a GREAT surprise. Her face was markably less puffy, and I could SEE my Annabelle. Yesterday, she was so swollen it barely looked like her. She could hardly squint open her eyes. Just from yesterday to today made SUCH SUCH a big difference!
When I touched her last night, she would NOT be happy as she was highly sensitive to any noises or touch. This morning though, I touched her little arm and she fluttered her eyes open and looked around without looking nearly as afraid. This mommy breathed a HUGE sigh of relief.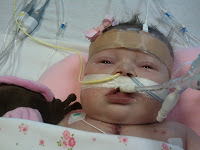 Yesterday morning… A wee bit puffy!
We've made great progress this weekend. She is off her paralytic, and they've weaned her ventilator rate quite a bit. We might even start CPAP trials (exercizing her lungs to get her ready to be off the vent) today!
She also got 2 of her chest tubes taken out, and the last one will probably come out today. Last time, they were in so long they almost fell out on their own, so this is HUGE and pretty quick progress! They're even talking about *maybe* extubating by Friday??? That might be a little wishful thinking, but it is a possibility, and I like good possibilities!
So far, besides the normal recover from surgery kinda stuff, she's looking SO good. No struggle with O2stats. No struggle with blood pressure. I had braced myself for this given our experience after the first surgery, but so far, it's been fairly uneventful! YEAH!!!!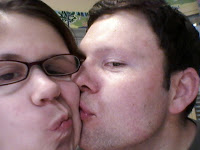 Laughter (and kisses) are good medicine!
We talked on rounds this morning about Annabelle's stomach surgery, too (which if you remember we'd planned to do like back in the beginning of Septemberish??) Well, since she's older, they do plan on doing a repeat GI study to see how she does. I am totally prepared for her to have the stomach surgery if that's what she needs, but I'm also praying that her tummy has decided not to reflux and that she does fabulously well and doesn't have to go through it. They told me before that there is very little possibility of her NOT having it… but with God ANYTHING is possible so I'm leaving that up to Him.
THANK YOU everyone for your prayers. I feel every one of them and I see them evidenced in Annabelle's recovery. Our God is amazing and faithful. Through the good AND the bad.