Okay, so I'm a few days late on my "once a week" post about Annabelle. My wonderful eldest sister got married yesterday, so this weekend was whirlwind of wedding preparations and events! Today she and Ben are off to Hawaii, and I am thoroughly jealous. 🙂
Our Annabelle is doing well! On the whole, she's had a very good week. She's come off of her vapotherm machine last night (it was the little nose thing that pushed air into her nose to help encourage her to take her own big breaths) and so far she hasn't desatted at all, which is REALLY good. She'd been having major issues with that earlier in the week.
Her vomiting has also subsided some, but this is still a huge prayer request. She still gags and sometimes vomits when we move her too much, and the only reason she's not vomiting more is because they have a tube in her stomach sucking out all the excess stomach bile so she can't throw it up. She will be getting an upper GI scan done on Tuesday to evaluate the reason she is making so much bile and still gagging. Please pray they figure out what is wrong so we can get this fixed!
She also got her stitches out this last week, so that is a good step in the right direction too!
Yesterday was a hard day for me. I was SO SO SO excited for my sister, but I didn't see Annabelle all day and I missed her. I got back to the hospital, still dressed in my wedding attire (and got some really funny looks…) and I saw my little love and it just hit me that she'd had to miss her first really big, momentous family function. She wasn't in any of the "family" wedding pictures. It was like we were incomplete.
My husband asked me yesterday if I was going to go to church finally this morning (I haven't gone since she was born since I"ve been at the hospital.) I know it is stupid, but I can't. For some reason the though of going there, not having a baby with me, and seeing all those other mom's with their new babies, I don't know. I cry just thinking about it. It was so so very hard to go home for the first time and see her room with her crib and all her things, knowing that I can't even bring her home to use them yet. I guess I just want that one thing I can save and experience with her, ya know?
Also, I'm starting back to work on Wednesday. I'm easing into it, just going 6 hours a day for now, but my weekends will definately be spent at the hospital, especially once my mother-in-law goes back home in a few weeks.
Please be praying for that too. Scott and I have been spoiled by not having to worry about what to do with my other 3 kiddos, so it will be a big adjustment to add that back in, but a needed one. Our family NEEDS to get back into some kind of normal routine.
But I still desperately want to be here for my Annabelle. My heart breaks at the thought of her here by herself. I know it's stupid, but I was gone all day yesterday and when I got back last night, it was just like she looked at me and said, "Mom, where have you been? Why did you leave me??" I know most of that was just me, but it was still hard.
*sigh* Anyway, your prayers that we figure everything out and that I don't go bonkers in the process are appreciated.
Lots of pictures today!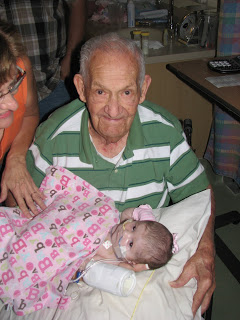 Annabelle with her Great-Grandpa Crum! He was SO SO excited to hold and see her. He told me as he left, "Now, you keep her warm, ya hear?" She doesn't wear clothes a lot (they are hard to get on and sometimes she'll get too warm in them) and he did NOT like that she wasn't all snuggled up warm. 🙂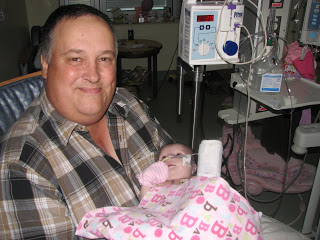 Grandpa Johnson holding Annabelle for the first time! Looks like a proud Grandpa to me:-)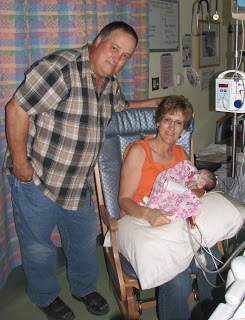 My mom and dad with Annabelle:-)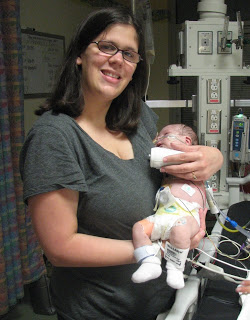 Me snuggling my Annabelle close! I'm usually sitting while holding her, but I held her while they changed her bed so her and I got a good snuggling in!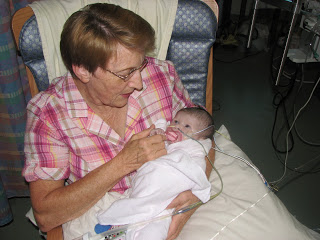 Grandma Phillips holding Annabelle for the first time!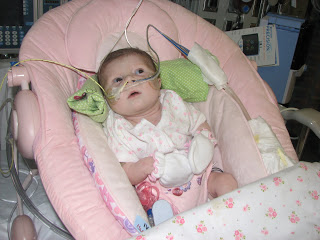 Annabelle hanging out in her bouncy seat for the first time! We try to get her in there for a half hour each day at least just to give her a change of scenery. She hasn't completely decided yet if she likes it, ha!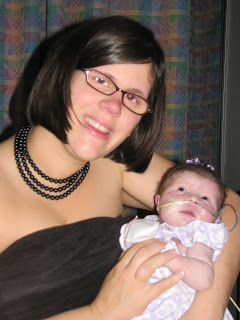 So, since Annabelle couldn't come for the wedding and have wedding pictures, I stayed in my dress and had my picture taken with her in her pretty purple wedding dress. (and yes, I got my hair cut!)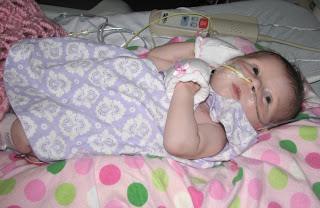 Annabelle showing off her wedding attire!
Love you all, and THANKS for your prayers and for listening to my babbling. God is still good. Every day. Every moment.