So, I'm going to try and post about once a week now unless a huge prayer request happens between postings… so we've graduated from "days old" to "weeks old!"
Annabelle came off the ventilator on Sunday afternoon (8/22), and has STAYED off so that is a VERY good thing!
We've had a few scares with low oxygen levels and are still struggling with it from time to time, but overall she is doing very good!
She also did a swallow study where they made sure that she had 1.) the suck/swallow skills to eat from a bottle and 2.) that she could coordinate her swallow and breathing right so the milk will go into her stomach and not try to go down her trachea (I have NO idea if that's how you spell it!) She passed it as long as she uses a slow flow nipple, so woohoo! Soon we should start to give her bottles by mouth as a trial! This is a HUGE accomplishment, but there is much to do on the feeding front in the future, as this is a big area of concern and hardship for cardiac (especially hypoplast) babies.
Unfortunately, we also received some very discouraging news yesterday and today. They had switched her heart medicine to "post-extubation" medicine, which was good because that was the last step before getting out of ICU and into a regular patient room.
But, they did an echo on Thursday and it showed that she was having some kind of leaky valve (I won't go into the technical terms of what was happening) so she has to go back on her original medicine. Because they can't give that particular medicine outside of the ICU (for babies anyway) this means we are going to stay put.
I clarified that today, how long this meant, and received a pretty hefty blow. Evidently they are now not anticipating Annabelle to go home at all between her first and second surgery. Which means we are going to be in the hospital at least another 2 or 3 months. Wow. Just typing that overwhelms me.
A billion thoughts and worries come into my mind, about work and money and childcare and schedules and… well, just a lot of stuff.
I KNOW God knows it all. He has it all worked out, and I don't have to fret. It isn't easy though. AT ALL!
So I'm choosing to look at the bright side tonight. While my baby being in the hospital for so long is devistating, I'll be honest and say that while I was excited at the thought of taking her home, I was also scared to death. We live a good 40 minutes to an hour from the Children's Hospital, and a good 20 minutes at least to the nearest any-kind-of-hospital. What if something happened? How would I know if she was having a bad spell? Could I REALLY do baby CPR if it came to that? I seriously want to throw up at the thought.
I am believing that there is a reason God wanted her to stay at the hospital and not come home right yet. God knows what is best for her, and I am resting that his perfect will WILL be done. He will work all the "but what about _____"'s out in his perfect timing.
Please don't think I am super woman and am handling all this so well. I'm not. I know HOW I should handle it, but practicing the whole not worrying thing is much harder than typing it on a blog. I'm working on it though. One day at a time, right?
Here are some recent pictures since I posted last: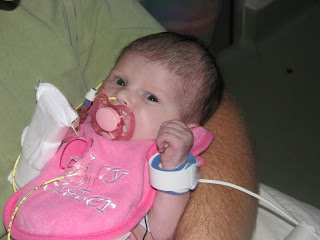 8/24/10 – Annabelle with her "I love my Big Sister" bib. We'll have to sew an S at the end of Sister though!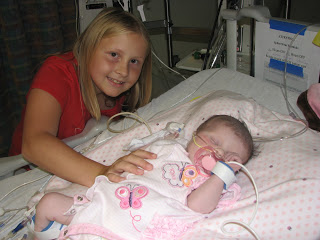 8/23/10 – Annabelle with her big sister Karalynn!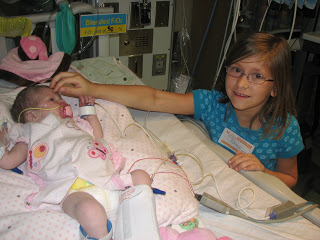 Annabelle with her Big Sister Lacy!!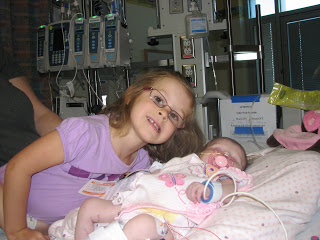 Annabelle with her Big Sister Gabriella!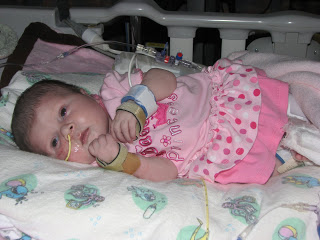 Annabelle in her "Daddy's princess" outfit. She looked too cute! And was wide awake too!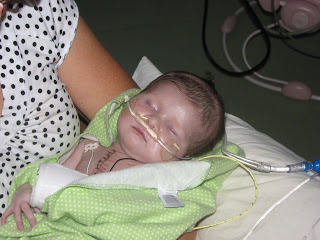 Today! Annabelle snuggling with her Grandma Johnson again. She was conked out, let me tell you!