I used to love roller coasters. The thrill of the ups and downs, the screaming, the adrenaline rush.
I updated the other day that Annabelle was off the ventilator and on CPAP and was SO SO excited.
They took her off CPAP in the middle of the night on Monday, and Tuesday morning put her on a less invasive machine called Vapotherm that still puts positive pressure into her nose but isn't as annoying as the whole head-gear thing.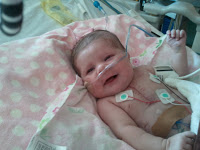 I was excited, but Annabelle was even MORE excited… because she gave me her FIRST smile that morning! I screamed, cried, showed the nurse, took pictures, and called every person in my family to squeel this good news to. It was a huge high for me, a much needed one. We had plans to have my cousin-in-law and sister-in-law come and take GOOD pictures of her that night since she was happy and off her machine (better than my puny camera…) and everyone wanted to come see this smiling, mask free baby! My heart overflowed.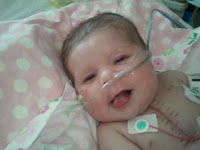 I went to work (a little late… had to spend time with my baby!) and got a call a few hours later that she'd turned blue, her numbers weren't good, and back on the CPAP she went.
And there plummeted my day. I then got another call not long after that my grandfather wasn't expected to last more than 24 to 48 hours.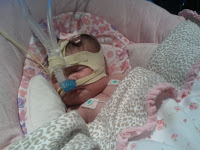 This is just a small snapshot of what the last 2 months have felt like. I'd get GREAT news…. only to be followed with very frustrating news. Granted, she's not reintubated (although they were thinking about it last night) but it was just discouraging.
I do know this though, about this crazy roller coaster. God is with us in the good AND the bad. Sometimes I think he sends things like smiles to help us be able to survive the things like desatting and putting masks back on. He gives me e-mails from people, sometimes ones I don't even know, that encourage me with their prayers at the time I need it most. Little things like "praying for you" phone calls/talks/facebook wall writes/blog comments/e-mails go a LONG way for me these days. It's a reminder that even when I feel so very lonely and discouraged, that someone thought about my Annabelle and prayed for her, and it helps lift me up and gives me just enough juice to carry on.
So just wanting to thank you all. Everyone asks how they can help, but just caring enough to pray or reach out is a big thing. Someday (soon… beware!) I'll start accepting some of the offers from those here for meals/babysitting and things, but for right now, just know your thoughts and prayers are oh-so-needed and appreciated.


What's next for Annabelle:
She gets to eat again tomorrow! Her 7 day bowel rest is up, so milk, here Annabelle comes! Please pray that her body tolerates her feeds this time and NO BLOODY POOP! (sorry, I know that's gross, but that's the request! Feel free to say stool to God though if you aren't comfortable… ha!)
Not sure when we'll try vapotherm again. We wanted to give it at least today, so tomorrow will be the earliest. So far, she's doing good again and her blood gasses are GREAT! Please pray that the doctors have wisdom on when she is ready, and that when they switch her, that she does GREAT and does NOT look like a smurf this time!
Stomach surgery is still on the horizon. Not sure a date yet. This will be a huge prayer request, as it is more risky in a cardiac baby. (Can't think of something funny for this one…)
Still has valve leakage so we still sit in the ICU until her next surgery. I *think* they might start testing her to see if she's ready in about a month or so. The next surgery should (WILL DAD GUM IT!!!!!) help with the leakage.
So, those are the requests/updates of the day!
OH! Some have also asked her size. They weighed her yesterday, and she was 4.4KG. I contemplated making you google that to see what it actually means, but I'll be nice. It is 9lb 11oz (so says the excel formula I've created just for that purpose…)
**update**
As I was finishing this, got a call from my Mom. Grandpa is with Jesus now. I'm so sad not to be at my Mom's with the rest of my family right now, but Annabelle needed me tonight and I think grandpa would have understood. Just.. yeah. Prayers for my family are appreciated too. He was 94, and loved Jesus SO SO SO much, so I know He's in a better place. I just miss him already.
Below is a picture I posted before, but am doing again in honor of my grandpa. He visited us just a couple of weeks ago right before Annabelle went back on the vent. I'm so so so glad we had him come up when we did. I'm 100% sure it was God's prompting as He knew the time was close.