Heart Fact:
Annabelle will never be able to have a live vaccine shot.
No MMR or Chicken Pox shot for her!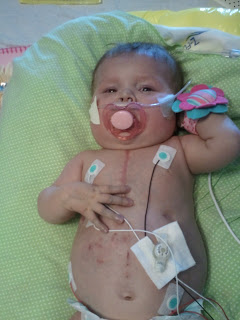 Annabelle and I are settling into our new routine in the PICU. Because of the big question mark in regards to "how long" we will be here, I feel the need to just get settled.
Right now, everything is just laying around, unorganized. And while I'm not miss organization queen by any means, it is bothering even me! So I'm taking little steps today to calm our madness. I fully intend to take before and after pictures of our room, to display the hopeful improvement. 🙂
Annabelle is officially off of vapotherm today. We tried twice last night, but she desatted each time. But we tried again this morning, and she's done great. Still on a lot of oxygen though.
Talked in doctor's rounds about the possibility of going back to the 6th floor on our heart medicine (Milrinone.) There is a new protocal that when certain steps are in place, a baby can go to the floor on this particular medicine, where before, it was against policy.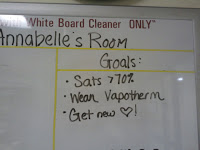 Going to the floor on it makes me nervous on many levels. First, we have been rapid responsed down here quite a few times since we first went up in December. Second, they have never had another baby successfully go to the floor on Milrinone, and they only tried (from my understanding) one other time. Plus… the going up and down is hard on MY heart and is, I think, more stressful for me than just staying down in the ICU this time.
Regardless, it doesn't matter. They reviewed the protocol and I believe the baby has to be at least 6 months old (Annabelle will be hitting that milestone this week!) and for a hypoplast baby, cannot be between the 2 surgeries. Since Annabelle is not having her Glenn, according to the doctor this morning, we won't be eligible to go upstairs on the medicine regardless.
And Momma breathed a sign of relief.
So here we sit. Waiting for a heart. Annabelle is a bit crankier than normal today. Hasn't slept ALL day besides five minutes here or there. Maybe just getting adjusted back to a new (but familiar) atmosphere? Not sure. They gave her Tylenol to help calm her down. It worked… but she didn't go to sleep. As I wrote this, she FINALLY fell asleep, after I put on some praise and worship music and we closed the door to block out other sound. YEAH!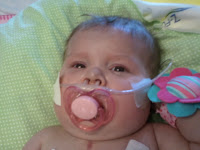 Please pray that we can get into some type of routine… that Annabelle gets some much needed sleep… and of course that we can get a heart at just the right time.
Some have asked how little Nathan, who just got his heart last week, is doing. Well, I am THRILLED to report that I talked to his dad for just a bit today, and he said that Nathan is doing great, and they might even get to go "upstairs" soon, so yeah for that! Your continued prayers for them as they adjust and that Nathan continues his wonderful recovery are appreciated.