Annabelle Update: Doing well! Puking has started to subside… still gagging a lot but only puked once since Monday, which was this morning. But we'll take any improvement!
Had another clinic visit today. It went well, echo and ekg were great. I LOVE sounding repetative when I say that! We'll find out final lab results tomorrow, which tell me for sure if it was a "good" visit or not!
Had her first PT visit today too. Made for a LONG day for Momma and Annabelle. (left at about 8:15 after getting kids to off to school and didn't get home till 3:30 ish) We are BOTH pooped tonight, but unfortunately only Annabelle got a nap:-)
Phillips' Family Update: This was a BIG week, because my Gabby started Kindergarten! She had her first 1/2 day on Wednesday, will have her first full day (with half the class) on Friday, and her first REAL full day on Monday. She's SUCH a big girl and is doing a GREAT job. Momma is SO very proud of her!! She was quite nervous going, but the teacher made her feel at home and Gabby came home telling of how she already made two friends and giving us all the updates. Mommy approves!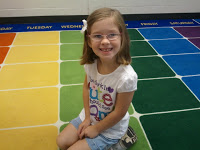 As for me, I've been trying to get some things done, and have actually made a few dents in things! A long way to go, but I feel like I've gotten something accomplished around the house for the first time in a LONG time.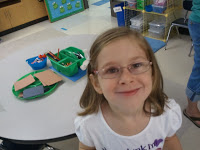 My sister and I still plan to have our garage sale on Saturday. Tuesday, Scott and I spent trying to get things ready, and we'll spend tonight and tomorrow night finalizing things. We usually do a sale in the Spring, but for obvious reasons, we delayed it this year! (actually, last year we did in July… when I was HUGE pregnant… probably one of the reasons I went into labor early!)
Amazing Things…
I self-profess to have two major things I struggle with (along with many other things I'm sure.)
Those things are:
CONTROL
and
PATIENCE
I like to control things. I feel better when I understand what is going on, and can have a say in fixing it. I do NOT like having my hands tied behind my back and having no clue what is going to happen.
And I should have a ton of patience by now given this past year. While I have more than I used to, it is still an area God likes to stretch me.
Both of these things became HUGE issues for me when it comes to money. Especially large sums of it. Now, I've worked in payroll for 12 years. I'm used to being responsible for a lot of money going out, both to employees and to the wonderful IRS. Seeing a 1, I'm more likely to assume it means 1 million vs 1 dollar (at work… not at home, HA!)
So lately, I've had trust issues (these stem from my immense need to feel control over situations!) Not just on the job issue. While that makes me nervous, it isn't my hugest concern right now.
What is giving me hives and making me want to curl up in a ball and scream is insurance.
COBRA insurance through my work is VERY expensive, and if we are going to survive on our savings until Scott gets a job, we need to NOT have to spend $1200 a month on health insurance!
But that aside, Annabelle has been my biggest concern. Even through COBRA, we are close to or over our annual maximum benefit for her for the year. Which means if we don't get her on SOME type of coverage STAT, she would be completely uninsured for the rest of the year, regardless of what we do.
Literally, I've cried probably many hours over this (cumulative… I don't cry for hours at a time, I promise!) My husband had been about ready to ring my neck. It was just… daunting, and overwhelming.
I haven't really vocalized my concerns before on here. I felt they were private and to be honest, I was so overwhelmed I didn't want to talk about it. I had no control over this, and had NO idea what to do.
I didn't realize just how much this was affecting me until Monday.
Monday I had an appointment with DHS guy at the hospital to help us go through the process of applying for TENNcare for the kiddos. This was our last hope, our last ditch effort. I've researched EVERYTHING, and looked at all the different programs.
So I sit down, explain our situation, and the guy says, "There is no way you're getting approved. I mean, we'll put the numbers in the computer, but I can tell you right now they will reject it. All I can say is, you're gonna have to spend the money."
By money, he means our savings. The money that is going to be the only thing that pays our bills the next few months or until Scott gets a job. I totally understand the whole "resource" limit thing. You don't want millionaires who aren't working on government health-care. Gotcha. (although a millionaire not working with a heart-transplant baby won't be a millionaire for long!!!) But… we aren't millionaires. We've worked really hard to save our emergency fund, to be good stewards while WERE making a living wage because we knew this time might happen.
Anywho… I about broke down in tears in front of the guy. He was super nice, and had an accounting degree so we talked numbers for a bit, and he put everything in there. All the while, I was thinking, we're screwed. In a few weeks, we'll have so many medical bills we WILL qualify for these stupid programs yet wouldn't be able to pay our mortagage. Great.
SO. He finished entering our information and pushed a button.
He did a double take. "Uh, it says you passed. It approved you."
Me: "Uh, WHAT?!?!"
DHS dude: "I mean, I have no clue how. Let me double check my input… nope, I put it in right. It approved you. Well, I'm not gonna complain…"
Me: "ME NEITHER!!!!!"
HOLY COW!!!! So yes, My kids now have INSURANCE!!!! I am SO SO SO thankful… yet at the same point, I'm not one of those that loves to live on the government. I believe programs are there for use for those who fall on hard times, like we are experiencing. Yet, I'm also believing God will provide Scott a job that has insurance so we can stand on our own feet and provide for our kids.
The next day, I woke up with ENERGY! I had this intense desire to get EVERYTHING done. It was like this huge depressing weight was taken from my shoulders.
And yesterday, we got a sweet gift from Scott's parent's church in NC… we are SO thankful and grateful for their giving hearts! We have been blessed by SO many (half of whom I still owe Thank you notes to!) and I just can't thank you all enough.
Consequently, I got a bunch of EOB's in the mail today from over the summer, denying our insurance claim for home medical supplies. Not sure what that it was all about, but for a moment, I just wanted to curl up again in the fetal position and give up. I'm finicky evidently. But… God knows even this. And I'm sure it will straighten out somehow. Because GOD KNOWS WHAT WE NEED!
I just hope, and pray, that sometime soon, all this can simmer down. I want to not have to worry about insurance crap and bills and what not. I just want to be able to focus on my kids, on getting Annabelle BETTER and STRONGER, and being the wife and Momma I need to be.
Sorry for the long detailed post, but this was a HUGE God thing in our lives this week, and I wanted to share it with you!
OH, and a quick shout-out to my hubby. He was SO SO SO sweet a few nights this week and turned off my 2:00 a.m. alarm reminding me to do Annabelle's feed. Instead, he did it himself! Even if it's a few nights a week, every little bit of sleep helps!!! So THANK YOU HONEY!!!!!
TUMMY TIME!!!!! She's doing SO good lifting her head up!
So, we had a 2 hour break between PT and Clinic today, yet we were all the way to Nashville. Momma tried to be a little ambitious and went to Panera so I could give her meds/feeds and get a little writing in during the wait. I wrote a whole 500 words (not a great deal.) Annabelle slept! It all went fantastic until we were leaving, I was getting her into the hot car, and found that she'd pooped. ALL OVER. Herself. Her stroller. And a wee little bit on me too. *sigh* The joys!
Just Chillin'!