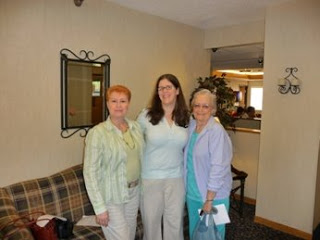 We're here!
We made it safe and sound to Minneapolis, MN at about noon today, got a quick bite to eat at Dairy Queen beside the hotel (we'll put a pic of that later…)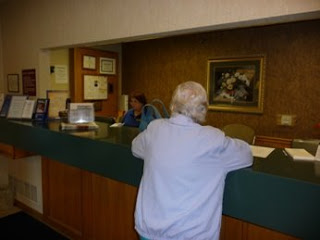 and the dear lady at the lobby who was nice enough to split the 1 night and allow us to each pay for 1/3rd.
The drive was nice.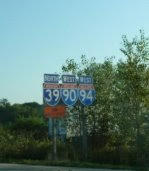 If you ever have a trivia question that asks where you can be on three intersections at the same time, it's in Wisconsin (maybe there are others, but we thought it unique…)
But, alas, no hotel room. Check in time was at 3, but so was conference. They had no rooms available until about 1:45.
And THEN, they said they didn't have the type of room we 'ordered'.
So we decided to wait until we got a break.
When the break came, the line for registration was a mile long.
We finally went and got our room after dinner.
And, lo and behold, I was informed that we STILL didn't have a room. They had overbooked the rooms and the kindo f room we had was no longer available. I was just a bit irritated.
So he gave me a different room.
I had a feeling something was wrong, so it was. They gave us a room with 1 King sized bed.
We have three ladies in our room including myself.
I promptly told the gentleman that we were three unrelated women who'd known each other a very short period of time and sharing an king sized bed was just not going to work. He, thankfully agreed.
That's when he fessed up about the overbooking.
And that's when I finagled an upgrade to a 2 double bed deluxe room (it is much bigger and comes with a couch…)
After a session of worship, we then made it back to our room, and crashed…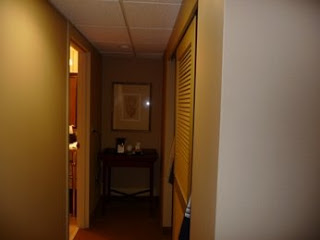 This is a view of the hallway that leads to our closet and bathroom
Overall it was a good day. Esther and I are beyond nervous about our appointments tomorrow, but I am fully believing that God has gone before us and prepared our way.
In fact, that is what He has told me consistantly the last few days. I rarely have that feeling that God is "speaking to me" specifically, but these last two days, I have. Everytime I worry, everytime I'm scared and doubt, I really do feel God speaking to my heart, "I've gone before you, Krista…"
Now, I have no idea what he has gone before me and done, but wow, it is a comfort. Angela Hunt gave a great speech tonight about going beyond 'following your dreams' but walking in daily obedience with God and knowing that his plans are much greater than our dreams could ever be.
I have alot of *desires* for this conference and dreams, but I am truely trying to keep an open mind and heart and just receive. God has gone before me and prepared the way and I need to walk in obedience and trust him to do his thing.
Cause ya know what?
He will!