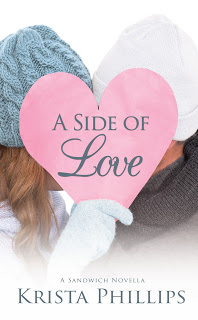 I feel sheepish posting this. My blog is sniffling from my neglect and not happy about the matter.
On the plus side, I've been busy writing so that makes up for it a bit, right?!?
Wanted to share with you the new cover for A Side of Love! It will release in February (probably toward the end, still finalizing my publishing schedule) and I'm so excited to share with you Beth and Garrett's story. This is the LAST Sandwich novella. They've been fun little books to write!
It has always been my heart to round out the Sandwich series with a full length novel (The Greatest is Love) but after a lot of prayer — and honestly me finally laying down MY plans and listening to GOD'S, I've decided to put that project aside for now. It is a story near and dear to my heart, but needs to lay fallow for a bit.
But I'm working on some other very fun projects that I'm excited to share with you soon, so stay tuned!
In the mean time, I'm going to try and be more diligent about blogging at least once a week, but be warned. It won't be very serious stuff. Another thing God has been reminding me of is my tagline that he gave me a few years ago.
Finding Joy in the Journey.
A writer friend of mine pointed out to me recently that IS joy in the journey… quite literally — and wouldn't you know it? It's a little joy sandwich.
My heart and calling has always been to make people smile, to find those precious gems of joy midst the turbulence that life can be.
Anyway, this ended up being a little deeper than just your run of the mill cover reveal blog post. My apologies. Eh, what I am I saying. I'm not really sorry about it. I
Love you all!!