SHE'S HERE!!!!!!
Yes, my THIRD book baby has officially been born!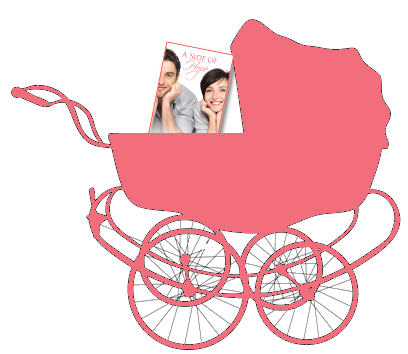 Isn't she so cute??
(yes, all my books are girls. I mean, it's only fitting for a mother of 4 human girls, right?!?)
I'm SO excited for you to be here celebrating with me!
If this were a REAL, in person party, I'd anticipate a few things.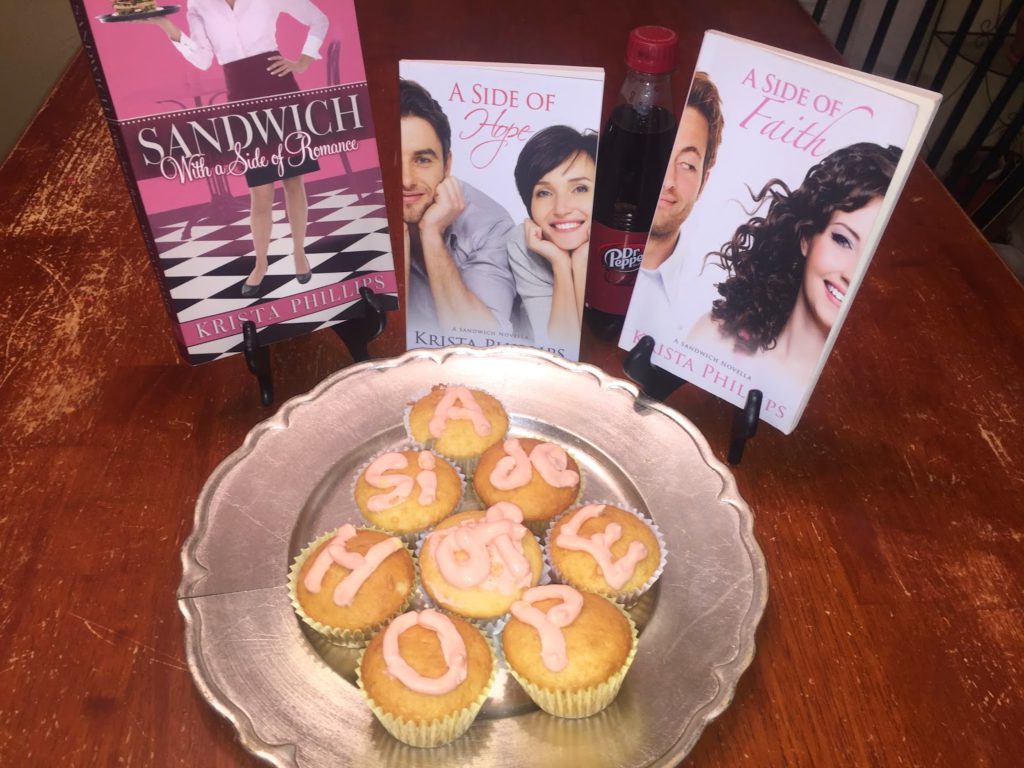 #1 – Food. (see Dr. Pepper and cupcakes…. I'm sending them to you virtually!)
#2 – Talking/conversation. And with conversation usually comes questions. So I'm pretending YOU are asking me some common questions— and then giving my response. Sound fun? Let's go! At the end, I'll ask YOU some questions!
So Krista, tell us some fun facts about your new baby book!
Oh. well she weighs 5 ounces and is 8 inches long and 5 inches wide! (I, uh, may have weighed her on the kitchen scale…)
But some other fun tidbits….
– A Side of Hope features Tilly as the heroine, who I named after my Grandma Crum's sister. Sadly, my grandma and her sister are no longer with us, but the one thing my mom could remember about Aunt Tilly was that she was a bowler, so I couldn't help but put that little bit in the story!
– Tilly's house in the book is actually modeled (mostly) from my Grandma and Grandpa Johnson's old house in Sandwich, location and all! I took a lot of leeway in its description, so it isn't 100%, but it was so fun to close my eyes and picture the house from my memory! Such AMAZING memories of that little Center Street house!!
– This is the first book that I've incorporated, on a very tiny scale, my experience as a heart-momma. You'll find out how once you read the book, but it was so humbling to start to be able to use Annabelle's story, even in such a small way, in my writing. Someday, I'll write a book where it is the focal point, but that is down the road for me.
– Adam and Tilly's backstory is deeply personal to me. While there are some pretty big, obvious differences, my husband and I too married at a VERY young age with some big, grandeur dreams of how "living on love" would look like. I'm happy to say that our story progressed very differently than Adam and Tilly's, but it was interesting to explore the "what if's" that come along with such a young marriage.
– Adam and Tilly are the oldest couple I've ever featured in a book. Since I married young, and am still in my 30's myself, it was a bit of a challenge for me, but I enjoyed telling their story. 40 is the new 20, right?!? (or so I tell myself as that age inches closer year-after-year! LOL)
So… I heard there are prizes at this party. Can I see them?
Greedy, greedy, always thinking about prizes!
KIDDING!!
I'm SO EXCITED about the prizes for this book! As I'm writing, I keep an eye on "themed" gifts that would be good for this very party (a quick hi to MIKE at the Cool Springs Lifeway, as I may-or-may-not have stalked his store more than a few times in the last 6 months-ish looking for HOPE stuff!)
Without further adu, here is the loot!
Giveaway #1 – ~$70 retail value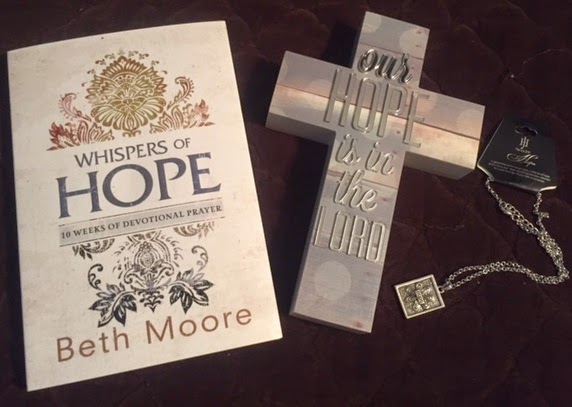 – A copy of Beth Moore's Whispers of Hope devotional
– A gorgeous mirrored cross that says, "Our Hope is in the Lord" because wow, isn't that so true??
-A "HOPE" necklace to wear as a reminder to NEVER lose hope
-And of course, a signed copy of A Side of Hope (or an ebook copy, whichever preferred!)
Giveaway #2 – ~$50 value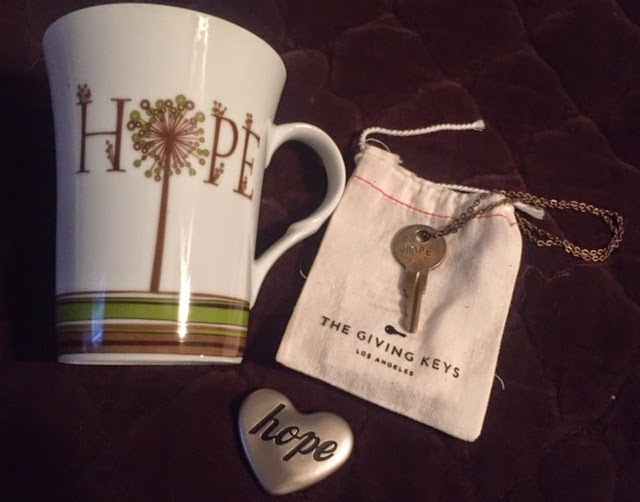 – A HOPE coffee mug
-A HOPE paperweight
– A GIVING KEY stamped "Hope"
Let me pause right here, because this is a SUPER special gift, and I wanted to explain it if you have never heard of The Giving Key. A local boutique here sells them (
ONE Boutique–AMAZING owner–if you are local check them out!
) and the owner was so sweet and gifted me a key last year when I REALLY needed it. It just so happens that my key said FAITH on it. Appropriate, no?
Well, The Giving Keys are not meant to be kept. They are meant to be GIVEN AWAY when you find someone who "needs" the key more than you. Then, when you receive one, you can go onto their blog and
share your story
if you'd like! Proceeds from the Giving Key are used to transition people out of homelessness. You can read more about their mission and history on their
website
, but it is so inspiring, and I'm SO excited to be giving away a HOPE key today!! My prayer is that whoever wins it will need a dash of hope, and will in turn find someone who needs a little hope to regift it to!

I've already given away my Faith key to a super special woman at God's prompting back in February, and am so excited to give away another!
And of course, the winner of this package also gets a copy of A Side of Hope (ebook or signed paperback, your choice!)
So…. how do I enter?
Well, as usual, I'm using my friend Rafflecopter to help! This is a ONE DAY giveaway, so entries are ONLY accepted through midnight tonight! There are a few different options for you to earn more entries, but the one you MUST do is comment on this blog with either a QUESTION for me or SOMETHING YOU ARE HOPEFUL FOR.
That's it. Easy peasy.
So… what's this little baby book about?
So glad you asked!
It's about hope, duh! 🙂 (sorry, couldn't resist)
Here is the synopsis!
Tilly Davis is meeting her forties head on. Happy and healthy, she
doesn't need a man to complete her. But as she blows out her candles,
she makes a halfhearted wish for maybe just a little excitement to spice
up her life.

God must have misunderstood her wish, though, because moments later, He brings her the one person she never wants to see again.

Her husband.
So… Where do I get this little baby book?
Geez, full of questions today! I LOVE IT!!! This is a GREAT question, actually!
Below are the links for purchase… and if you want to check out the OTHER sandwich books (Sandwich, with a Side of Romance and A Side of Faith) their links are on their book covers on the sidebar!
Amazon (available in print and ebook)
Barnes and Noble (available only in ebook)
iTunes (I can't link to this one, but just search it on your ipad/iphone and it'll come right up!)
ALSO, I ALWAYS appreciate reader's feedback on books! So once you've finished the book, I'd be oh-so-grateful if you'd post an honest review of it on sites like Amazon, Goodreads, or Barnes and Noble. Your feedback helps other readers in making their book selection choices–and helps an author out too!)
Okay. YOUR turn!!! If you have any more questions to ask me, bring 'em on in the comments section!
Otherwise, I'd love to chat about hope. It's such an awesome topic.
What does hope mean to YOU? What are you HOPING for right now? Has there been a time in your life where HOPE in God has impacted you? Let's share!!!